How to Attract More Customers to Your Business
It's a pretty simple formula, businesses make money by selling products or services to customers at a profit. No customers, no business. Use the strategies below to help you attract new customers and increase sales.
1. Identify Target Customers
It's essential to figure out who really needs or wants your product. If your product or service is new, a good strategy is look at your competitors for insights. If you've been around a while, engage with your current customers and do as much research as possible. To help you break it down, follow the 7 steps described in this article: How to Identify and Analyze Your Target Market in 2019.
2. Choose the Right Channel to Reach Target Customers
Are your customers internet savvy and active on social media? If so, determine the best platform to reach them.
For example, SmartBiz recently worked with the creators of the Infinity Strap, a popular yoga prop. Instagram has a robust yoga community and the business has attracted almost 55,000 followers using targeted hashtags and on-point photography. Of course, social media won't reach every customer. There are offline strategies as well including simple postcards and advertising in local publications.
3. Encourage Word-of-Mouth Recommendations
Word-of-mouth marketing is effective and inexpensive. Check out this chart to see just how important this type of recommendation is: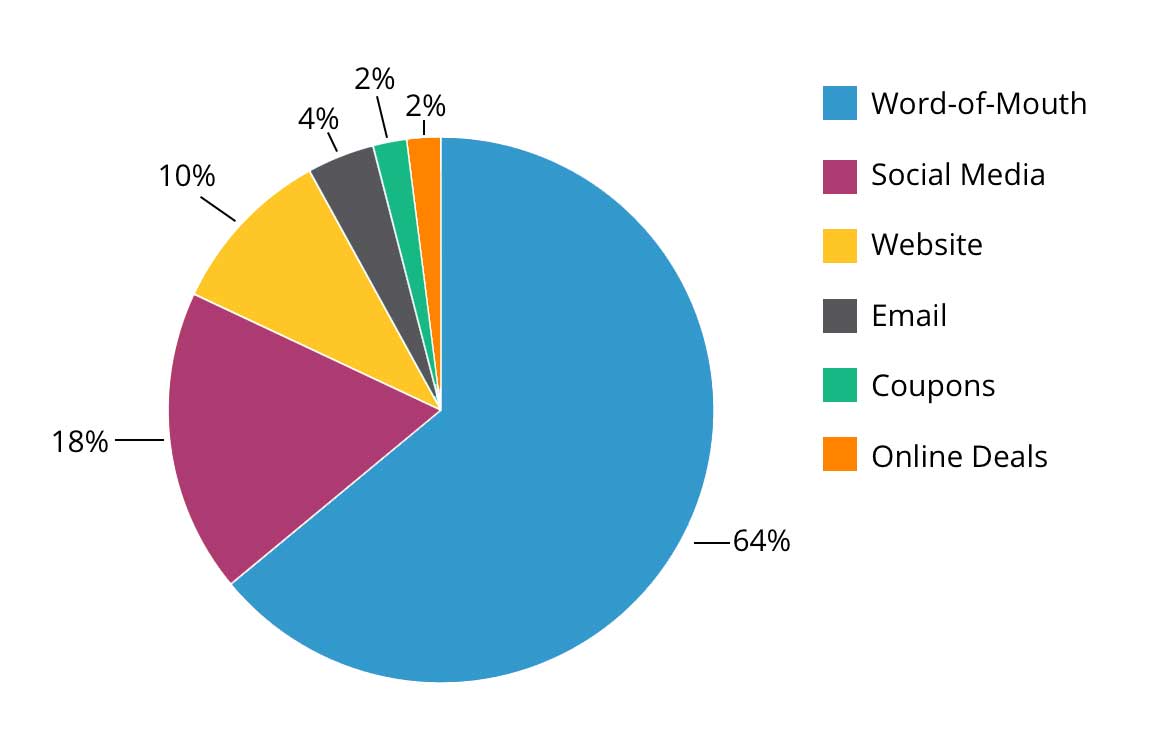 4. Offer Discounts and Deals
Everyone likes a bargain! Don't just give away stuff or give random discounts. Have a strategy behind your deal. For giveaway ideas, check out to be published . To attract new consumers, consider a referral program. Offer shoppers specials like free shipping, coupons, a discount, or store credit for referring another shopper who purchases from you.
If you have the budget, you can create branded merchandise to give away in your store, online with purchase or at community events. For creative ideas, check out this post filled with merchandise shoppers will love: Promotional Items for Your Small Business.
5. Run a Contest
Winning is fun! Running a contest can increase engagement with current customers and attract new ones. These days, social media is the fastest and easiest way to launch a contest. Determine the best platform to reach your current and potential customers, set a budget, choose a prize, set up the rules and promote. No matter what prize you choose, make sure it's something your target demographic would appreciate.
From your own products and services, to gift baskets to a fun experience, a contest can be fun and pay off big.
6. Get Listed in Local Directories
Platforms like Google+, Yahoo, Yelp and Manta are local business directories. When you claim your page, you'll have control over your profile. Add a link to your website, high-quality photos, directions, hours, and any other important details consumers need to know. For more opportunities to get your business out there, check out this post from HubSpot: The Ultimate List: 57 Online Local Business Directories.
7. Response Marketing
Direct response marketing is a type of marketing that prompts a specific response from a consumer's direct interaction with your business. The goal of direct response marketing is to send customers targeted messages to drive a specific action. Examples include directing consumers to buy your product, read your blog post, subscribe to your newsletter, refer-a-friend or other business goals you've established.
8. Find Your USP
A unique selling proposition, known as USP, is what sets your product apart from competitors. Your USP can be a lower cost, higher quality or a brand-new product that can't be found elsewhere. Several SmartBiz Loans customers have strong USPs.
For example, SkateXS creates smaller sized skateboards specifically designed and decorated for kids. They've found a niche and sales are booming.
Another customer makes dog collars and other pet accessories. That market is saturated but earthdog sets itself apart by creating eco-friendly hemp products, made in the USA. Their motto is "Good for the earth…even better for your dog." They've built a passionate customer base interested in green living.
9. Form Partnerships
If you've nailed down your target audience, forming a partnership with another small business serving that clientele can be a great marketing move. Do some research and make a list of retailers, brands, charities, or business organizations your ideal client might support.
For example, if you own an interior design firm, you might partner with a local shop that sells home goods. If you're a personal trainer, you could reach out to small businesses offering athletic apparel. Offer to give a free session when customers spend a certain amount on workout wear. Of course, then you need to have a strategy to convert the clients who take advantage of the deal.
Looking for more ways to expand? The SmartBiz Blog is a fantastic resource for business owners. Check out these articles with great information about marketing your business: