How to Respond to Negative Reviews in 11 Effective Steps
Unfortunately, negative reviews can undermine your business reputation. Your online reputation is your strongest asset or biggest liability and should never be taken lightly. According to BrightLocal.com, "customers read up to 10 reviews before being able to trust a local business." Having that in mind, here are the steps on how to analyze and respond to negative online reviews.
Why do people write negative reviews?
According to a Trustpilot survey of thousands of consumers, customers might leave a bad review to achieve the following goals:
The review alerts other shoppers to negative customer experience in hopes nobody else goes through the same.
Some want potential customers to make smart buying decisions – which, in the eyes of a negative reviewer, means not buying from your business.
They hope for acknowledgment of wrongdoing from the business, as well as a resolution.
They want to share what they experienced when working with your business.
Some may try to take revenge and quell anger after a bad experience.
They want to ensure the business serves customers better in the future.
All these reasons share the thread of an experience so disappointing that the customer feels compelled to warn others. But what if you could convert that initial negative experience into a positive one so potential customers see you as accountable and come to trust you? That's just one reason to respond to customer reviews.
Why respond to customer reviews?
You should respond to all positive and negative customer reviews for the following reasons:
Making a bad experience a good one. You should acknowledge negative reviews and responses by admitting fault and going out of your way to rectify the situation. In doing so, you can convert negative feedback to good reviews. You won't just save your online reputation – you'll improve it.
Managing your online reputation. One study found that 84% of customers consider online reviews as important as word-of-mouth praise or negative feedback. Another study found that 90% of consumers look at one or more reviews before they buy. Together, these stats show the importance of online reputation management. If you appear grateful for positive reviews and are willing and able to rectify bad experiences, potential customers may feel more confident buying from you.
Engaging customers. It's no secret that customer engagement is key to business success. Responding to all your reviews forges continuous engagement that retains current shoppers and helps persuade potential customers to buy from you.
How to respond to negative reviews
Think of negative reviews as a crisis management situation for your business that needs an immediate solution. What should your business do first? The experts suggest that you should act in the first 48 hours and have a game plan before negative reviews have a chance to impact your business.
1. Building an online presence and reputation
When your business is regrouping from negative reviews, there's a right and a wrong way to rebuild your reputation. However, the best way to thwart a negative review is to make sure your reputation is intact from the very beginning. Customer Service professional Shep Hyken, customer service and experience expert, reported that 95% of dissatisfied customers will return to a business if their concerns are resolved quickly. Here's what your business should do:
Invest in online reputation Shep Hyken.
Proactively publish useful, positive information.
Update your blog frequently.
Be active on social media.
Reach out to your loyal customers (online and offline).
Maintaining and repairing your online reputation is one of the most important elements to rebounding from negative comments or feedback about your business. Not every customer will have something positive to say about you, but with the proper steps, your company can manage and maintain its reputation. Successfully managing your reputation can help you improve your customer retention and protect your ROI.
2. Time and crisis management
The need for time-sensitive crisis management often takes place in the digital world. Your business should never ignore negative reviews and believe they'll go away on their own. Your reputation is something to be taken seriously and one negative review can tarnish your good name. Instead of waiting until the last minute, work to resolve any issues you have with your customers within the first 48 hours. Your customers are also watching how you handle other people's concerns. A crisis prevention plan will help you address negative reviews right away.
3. Offer a solution
When your business is faced with negative reviews, offer your customers an immediate solution to their concerns (publicly if possible). Your business should be willing to openly discuss the matter with your customers offline.
For example, when it comes to your reputation, a chatbot (artificial intelligence) is not the way to resolve a customer complaint. Be willing to tackle the problem head-on by offering your customers the best resolution.
In fact, customer experience (CX) and customer engagement will play a significant role in your business reputation. A happy customer will likely recommend your business to their friends and family.
4. Thank the reviewer
Negative feedback can make a business owner like yourself angry or anxious, but you shouldn't show it. Instead, thank the reviewer for being willing to share their experience. Be sure to express gratitude for a chance to learn from your mistakes. Doing so will show the reviewer (and anyone else who reads your reviews) that you can accept your mistakes. However, an apology without accountability or remedy isn't as powerful, so you should...
5. Apologize, explain, and correct your mistakes
Follow your gratitude with a sincere apology for the customer's experience. Then, explain any unusual factors that may have led to the experience, but don't use these factors as excuses. Instead, invite the customer to return for another try, one in which you'll take certain steps to not repeat your mistakes. Show the reviewer why other customers love your business and how you'll give them a similarly positive experience on round two.
6. Address the reviewer
It's easy but poor form to thank someone for their feedback and show how you'll rectify your mistakes without even addressing the person by name. A customer who receives a review response lacking a simple "Hi, Name" at the beginning may be more likely to perceive your response as templated and ingenuine. A direct response is more engaging and human and therefore more likely to lead to you getting that second chance.
7. Personalize the response
You wouldn't train the agents working your customer service phone line to say the same thing to every caller, so why would you do the same on review sites? Yes, review response templates can be helpful for figuring out how to respond to negative feedback, but they can also appear ingenuine. If you do use templates, you should rewrite them in your own language, acknowledge the reviewer's complaints, then follow all the above steps.
8. Move the situation offline
In cases where the negative feedback you've received is particularly egregious or a customer continues to be unhappy, offer to move the conversation offline. Set up a phone call, or communicate through another private channel well removed from review sites and social media. This way, you and the customer can speak in a space where what you say won't be influenced by what others can see you say and do. The result can be calmer, more sympathetic customer feedback and a solution that meets the customer's needs.
9. Transform a bad review into a positive one
Transforming a negative review into a positive one is easier than you think. For example, if a customer isn't satisfied with your business or brand and leaves a negative review, if your business resolves the matter to your customer's satisfaction, you can ask them to leave an updated or replacement review. Many customers will love to see that you satisfied an unhappy customer, turning a negative review into a positive one. The best way to combat a negative review is by correcting the issue with that particular customer for others to see an improved star rating.
10. How to remove a bad review
Be wary of online reputation management (ORM) providers that promise to remove negative reviews. According to the experts, it's nearly impossible to remove negative reviews from the internet. Businesses can counteract negative content by proactively adding useful and positive reviews (mentioned above). Block out negative content with positive content (often).
Never resort to fake reviews that can cost your company thousands of dollars in fines and also cause self-inflicted negative reviews of your business. Your customers want to know they're dealing with someone trustworthy. To successfully neutralize negative reviews, ask your loyal customers to leave feedback after every purchase or positive business transaction.
11. Elements to avoid when writing a reply
The language or tone of voice your business chooses to respond to customer reviews plays a role in securing a positive online reputation. ORM is imperative to the comprehensive success of digital marketing. Responding to reviews is important for your search engine rank, but the response itself can help you combat any negative reviews and maintain a positive reputation. When writing a reply your tone of voice can ensure a happy ending rather than further enraging a customer. Avoid any language or tone of voice that:
Encourages the trolls.
May be dishonest.
Disengages the customer.
Angers the customer.
There's nothing more important than your business's reputation. Social media plays a significant role in that, too. Facebook, Twitter, and Reddit are the largest social media outlets that customers use to voice their opinions about a business or brand. In fact, their opinions oftentimes have the potential to go viral.
If you offer high-quality customer service, those customers are likely to leave a positive review. Your reputation is the lifeline of your success. Every business should have an online reputation management strategy to ward off negative reviews. Otherwise, these bad reviews can add up and impact their sales, growth, and more.
Real-world examples of how to respond to negative reviews
Properly responding to negative reviews is perhaps the most challenging part of online reputation management, but you can find countless examples of businesses responding successfully to even their harshest feedback. Below are just two such real-world examples. You'll likely encounter many more just by looking through your favorite review site.
JetBlue
Perhaps the most oft-cited example of a successful response to a negative review is the below Twitter reply from JetBlue. When a customer tweeted about a negative experience and tagged JetBlue, the airline saw the tweet and wasted no time responding to it.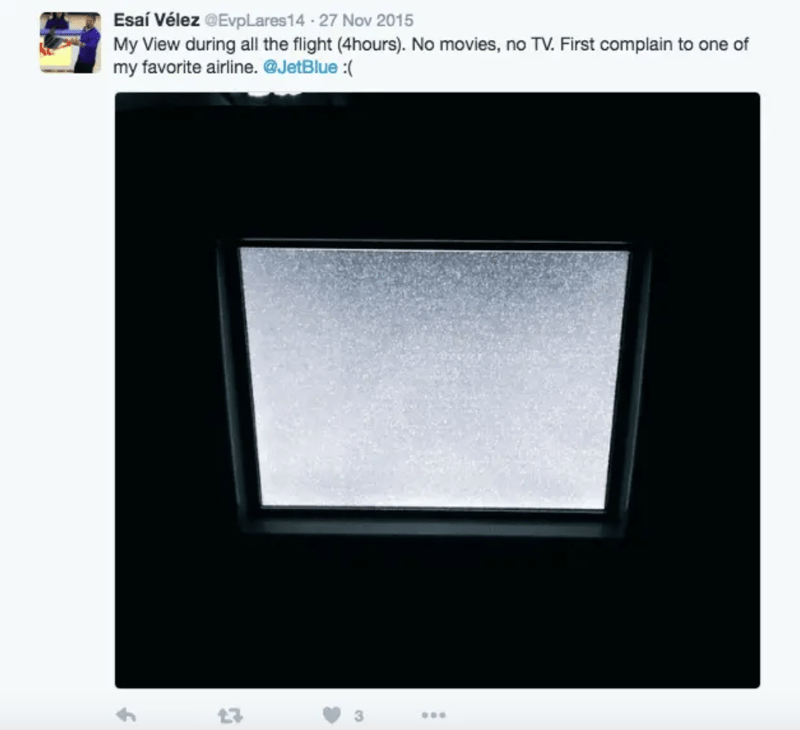 The company's initial response was fun, upbeat, and genuinely inquisitive. The customer replied in a way that conveys excitement that JetBlue responded, but they remained unhappy with their situation. JetBlue followed with a response that expressed sympathy in an upbeat way and gave the customer clear instructions on how to receive a credit for their negative experience.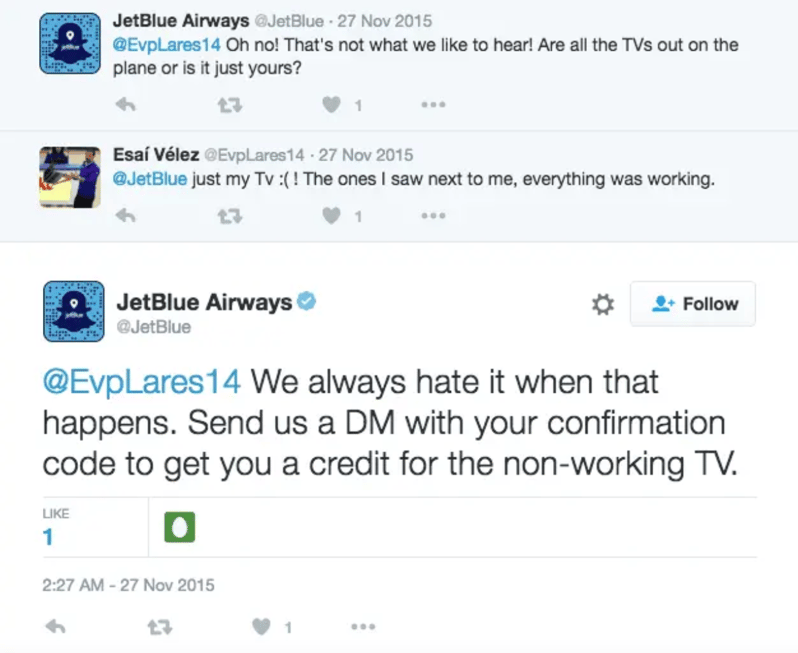 Admittedly, this example didn't take place on a reviews site like Yelp or Google Maps. However, every step JetBlue took would have made for a perfect response on those websites as well. The following example, which is just as powerful, is indeed from a review site.
Car dealership
Another commonly cited example comes from an anonymous car dealership that deftly converted a negative review into a positive one. The car dealership's owner responded to a negative review as follows: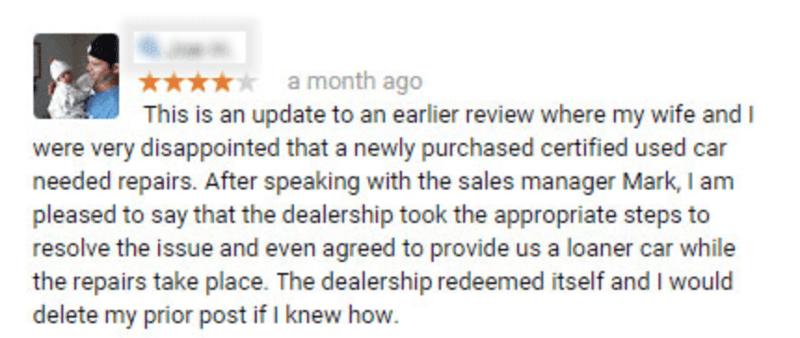 This response puts the blame for Joe's experience (note that the customer is named and the business has apologized to him) squarely on the business's shoulders. Key is the sentence "We have a high standard of quality for certifying our vehicles and your purchase should never have been an exception." This sentence acknowledges the issues, asserts the business's typically high standards, and expresses strong regret that Joe's experience didn't reach that threshold.
Later in the response, the dealership invites Joe to call the company to find a solution. Joe ultimately took this step and walked away extremely pleased with how the dealership solved his problem. He left the following update to his review afterward:
This real-life example shows the power of tactfully addressing negative reviews. The car dealership converted a negative experience into a positive one, thereby maintaining its online reputation and adding a potential repeat customer to its base. Responding to negative online reviews isn't just good for acquiring new customers – it's key to making strides with your current ones too.