Just a few short years ago, Bryan Tracey was Vice President of Engineering at a technology company in Wisconsin. These days, the busy dad is running a wildly successful e-commerce company out of Southern California.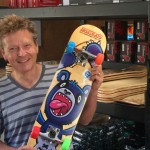 He's selling custom-made, high-performance skateboards, sized correctly for younger kids. SkateXS Inc is poised for explosive growth this year thanks in part to a $150,000 SBA loan from SmartBiz Loans™. Here's a peek into his life and business.
SmartBiz: How did an engineer in Wisconsin end up as a small business owner in San Diego?
Bryan Tracey: The inspiration came from my 6-year-old son. He turned out to be pretty good on a skateboard so I wanted to buy him one. I was shocked that I couldn't find a properly sized skateboard with quality components. My choices were a full sized board or a toy store option. I spoke with skate buddies and finding a smaller size quality board is a universal challenge.
SB: What were the first steps you took to launch SkateXS?
BT: We researched a name and registered the website. We also participated in a summer program at the University of Wisconsin and created a business plan. I had previously started my own small technology programming software company but definitely not this kind of business. I was basically rolling the dice with a much lower tech but more entrepreneurial opportunity.
SB: Why are your skateboards special?
BT: We custom assemble every skateboard to order. We allow kids and parents to customize everything from the grip tape color to the color of wheels. We can also put a name on top of the skateboard. It's hands down the best product out there for younger skaters.
SB: Who are your target customers?
BT: We have two customers – young skaters and then the parents of those skaters. For the skaters, we have a great product that makes all the sense in the world and is hands down the best kids skateboard out there. For the parents, we get to focus on world-class customer support really as one parent to another.
SB: How were you funded in the early years?
BT: We really grew the business through bootstrapping. At first, we took out a credit card with a $5,000.00 limit to buy the next round of products. We consistently reinvested everything back into the business. Early on, we regularly sold out of inventory. We simply weren't bootstrapping fast enough.
SB: When did you realize you needed extra funds to keep up with demand and grow?
BT: The big eye opener was in 2015 when we realized that we were going to be profitable. Our big challenge with SkateXS is the holidays. During Christmas, we can get over 10 times our normal orders in a single day. Somehow we had to come up with significant cash flow in August and September to get inventory ready. We scraped together everything we could. We maxed out credit cards, got a Kabbage loan for around $20,000 and borrowed money from family. We cobbled together $60,000 to make it thorough that holiday season. Before the end of the year we had paid back all of the money we borrowed and were profitable in 2015.
SB: What did you learn during that time?
BT: We knew we needed an alternative approach and deeper pockets. We still ended up in a less than ideal scenario with inventory shortages and actually had to turn off Amazon sales because we couldn't keep up with demand. We set our sites on $150,000 to make 2016 a much better year. At Christmas we need to triple the size of our team to fill all of our orders.
SB: How was your experience with SmartBiz?
BT: We got a great rate on a $150,000 10 year loan. At the end of the day we really liked the story from SmartBiz. It made sense. Time was important to me and I was very happy that it took less that two months from start to finish to get the loan. I worked hand in hand with the SmartBiz Relationship Manager who was a big help moving forward.
SB: Have the funds made a difference?
BT: Yes, already making a big difference. August is the time of year that we invest in inventory in higher quantities. Because we're ordering more, we're getting better prices and our dollar is going so much further with this additional money. We can actually make the money really work for us. As an example, skateboarding and stickers go hand-in-hand and we include them with every board purchase. I've always placed orders for just 1,000 stickers at a time. I can now buy 5,000 and it's so much cheaper. I'd be crazy not to do that. Having cash on hand is a difference maker.
SB: Where are your skateboards built?
BT: We do all the assembly and shipping out of our stand-alone workshop here in Carlsbad. We anticipate being able to move to a more traditional commercial warehouse environment soon.
SB: How are you marketing your product?
BT: Right now we rely a lot on word of mouth on social media and in skate parks along with organic Google searches. We're actually number one in Google organic search. We've never played SEO games.
Third party blogs and reviewers also help get our name out there.
SB: Where do you sell the skateboards?
BT: We're all over the place. We've shipped to over 60 different countries and every state in the US. Thankfully we're in a day and age when you could do this.
SB: What's the biggest challenge you face as a small business owner?
BT: Biggest challenge as a small business owner is day-to-day cash flow. It's by far the biggest challenge when we're not able to order in higher quantities. Another challenge is the same thing that entrepreneurs always deal with. A business is multifaceted. One minute you'll be optimizing the website, the next minute you're on the phone with a supplier or helping out a customer via email. You can't forget to take out the trash every once in a while too! Another challenge is never being off the clock. I'm always taking calls, even on the weekends and in the evenings. During the holidays, we're in the shop at four in the morning till ten or eleven at night. I'm still recovering from last year but we're almost ready for the 2016 holidays. I am, however, trying to make time to take advantage of the California lifestyle. I'm learning to surf.
SB: What's next for SkateXS?
BT: We see the opportunity to grow the brand. We want to produce more educational material and video to help kids learn to skate whether or not they are on a SkateXS skateboard. We've managed with just four designs and three sizes so far but we want to grow to make sure all kid skaters have a skateboard they love from SkateXS. We're also exploring opportunities for retail distribution.
SB: Thank you for sharing so much of your valuable time with us! One last question. What's the best thing about being a small business owner?
BT: I think it's the freedom to implement your craziest and most creative ideas and know that you can make it right. I don't have to ask permission, I know I'm doing what's right for the customer.