Small Business Success Story
"What's my next career move?" This is a question many face during their lives. Public Relations professional Henry Feintuch is no different.
Feintuch is a senior communications practitioner and former broadcast journalist with 30+ years of experience. He's worked with organizations ranging from start-ups to Fortune 1000 companies.
In 2009, Henry parted ways with a company he co-owned. He found himself wondering what his next career move was going to be.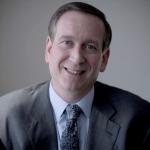 "I was in my mid-50's and the change forced me to figure out what I wanted to do when I grew up. I became an accidental entrepreneur!" he says with a laugh.
Feintuch formed his own boutique Public Relations firm, Feintuch Communications, using cash from a settlement with his former company. Feintuch Communications specializes in B2B clients with an emphasis on technology and financial services. Fortunately, he was able to exit with clients and staff but spent the first three years underwater due to the recession.
"We had a New York office from the very beginning. Truthfully, we were acting like a big firm but ended up spending more than we were making," Feintuch admits.

However, the economy began to improve. Three years in, the company broke even and Feintuch Communications became a profitable business. It still wasn't smooth sailing.
"We were living out of the cash flow of the business," Feintuch says. "It made for tight circumstances. I constantly wondered if I was able to put myself on the payroll."
Feintuch quickly discovered that even with a great career and solid track record he was not a prime candidate for a small business loan. Across the lending industry, standards tightened up for small business loans.
Feintuch first tried his luck with his long-term business bank as well as his personal bank. Both advised against an SBA loan even though his business was cash positive because Feintuch's home was underwater.
"I tried 2 other business banks over the last year who had positioned themselves as business friendly and flexible but I was still unable to find a loan. I wasn't desperate for cash but I wanted to grow, do a business acquisition and scale up."
After an intensive search, he started the loan process with a lender. "I got all of the forms and was ready to go. However, the disclosure of the interest rate came with some fancy footwork. " Feintuch discovered that the cost of the funds compounded monthly and resulted in an APR in the high 20%s.
"I said 'No thank you.'"
Still searching for a lender, Feintuch came across "Why Sam's Club Bet On SmartBiz", an article featured on Pymts.com in June of 2015. "I looked at that and told my attorney that SmartBiz probably passes the smell test of credibility. I didn't want to get in bed with unethical people ripping off businesses."
Feintuch looked at the SmartBiz website and explored the rates. "The process was painless and professional," he says. "If I had I seen all of the forms required at once, I would have been overwhelmed but there were no unreasonable barriers. I was motivated to push it through."
Feintuch took out a $100,000 loan at 6% for 10 years.
Feintuch says, "It was great to have a dedicated loan rep who worked with me throughout the entire process. He was extremely knowledgeable."
Feintuch feels positive about his loan experience with SmartBiz. "Everything was forthcoming. SmartBiz is clean – no monkey business or games."
Like many small business owners who receive an SBA loan, Feintuch is interested in expanding his business. "I'm looking to do bolt-on acquisitions with three other companies. The future looks good!"