Customer Spotlight: Birch Tree Promotions
Katie Basson has always been an entrepreneur at heart. She started her career as a first grade teacher but wasn't content to stay in the classroom.
Basson created a program for children that she marketed online, in bookstores and through child care agencies. The product was successful but not enough to make it financially worthwhile in the long run. Since her venture taught her so much about commerce, she looked for a job where she could use her new skills.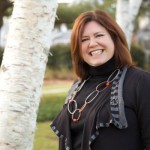 Originally hired as the office manager for a promotional company, she soon moved up to sales and began forming strong business relationships. When the owner decided to move on, Basson wondered if she should look for a new job.
"A large customer said 'We'll be your first client'. I made the leap and now Birch Tree Promotions is nearing its 10 year anniversary," she says with pride. The company has had explosive growth and zoomed from 1 client to over 100.
Basson started as a one-man-show but has built up her staff to include one full time employee, two part time employees, a summer assistant and one team member very close to her heart. "My mom is my phenomenal marketing guru and event specialist," she reports. "She brings a real level of experience that not many promotional companies have. It's fun to go to meetings with her. Clients look back and forth and are never surprised when we tell them we are related!"
Basson runs her million-dollar company from a home office in Newburyport, MA. Birch Tree Promotions specializes in high-end promotional products for a variety of clients across the U.S. From customized leather bags to branded fleece, Birch Tree offers clients unique flair and stellar service. "We do branding right and we make sure that our products put your business in the best light," she says. "Check out testimonials on our website and you will see that we care about each client."
As Birch Tree nears its 10-year anniversary, Basson says she wants to put in place long range planning to expand marketing and sales. "I want to spend less time juggling financially and put my energies into more meaningful growth and business expansion."
She's working towards that goal with the help of a $200,000 SBA loan from SmartBiz. Basson wasn't new to the SBA loan process. "I had an SBA loan with my former business through a local bank. It was very time consuming and was not a great experience. I knew in today's day and age there must be a better way." The better way ended up being SmartBiz.
Basson found the SmartBiz website through an online search and did her research. "I saw that SmartBiz had been featured in outlets like CNN and Fortune magazine. The company seemed to be legitimate."
Working closely with a SmartBiz Relationship Manager, Basson found the loan application process to be professional and easy. "My Relationship Manager was amazing. She would respond right away and kept me up to date on everything. She was super energetic, friendly and really bright." Unlike the bank, Basson felt that SmartBiz was in her corner. "I really believe that SmartBiz had my best interests in mind."
Basson was impressed with how easy it was to submit documentation to qualify for the SBA loan. "It was much more efficient. The way I was able to provide the data was easier. It was great that I didn't have to sit across the table from a loan officer at a bank and deal with piles of paperwork."
Working capital has been a challenge for the busy small business and the SBA loan will be a relief. "It can be really stressful," Basson says. "In the beginning, we would use credit cards to help out cash flow. Clients pay net 60, if we're lucky. Our vendors expect net 30." In addition to using credit cards to run the business, she went to a local bank and secured a line of credit but it wasn't helpful due to the high interest rate and payback terms.
Now that she has the SBA loan from SmartBiz, she'll shore up cash flow and will be hiring additional summer staff. Basson is also expanding her personal knowledge base. "I'm taking a software class now to learn how to create our own data base to improve efficiency. It's going to be a great benefit to the business but it's hard to fit in while working full time," she says. Like many entrepreneurs, 9 – 5 Monday through Friday is not the norm. Basson estimates that she puts 50 to 60 hours a week into the business. "I try to have a 'normal' work week but it's a challenge."
Basson says the best part of being a small business owner is that you have limitless possibilities. "If I keep working hard I can create something that will grow and last." When asked how she came up with the name Birch Tree Promotions, Basson says, "I was looking out the window and thinking. There were a lot of pine trees and one solo birch tree in the middle. With its white trunk, the tree was practically glowing. Birch trees stand out from the crowd."
Birch Tree Promotions certainly does stand out from the crowd and SmartBiz is thrilled to help fuel its growth. If your business needs promotional items, visit the Birch Tree Promotions website and tell 'em SmartBiz sent you!
Do you need extra funds for your small business? An SBA loan is the best bet for small businesses with low rates, long terms and low monthly payments. Visit SmartBiz today and discover in about five minutes if you're qualified for an SBA loan.