Business Story: Strictly For Kids
Dale Fusch, the owner of Strictly for Kids in Tacoma, Washington has been in the childcare and playground equipment industry for over 35 years.
His business operates out of a 16,000 square feet facility that includes a shop, offices, warehouse and an outlet for local businesses. When he needed funds to keep up with growing demand and inventory needs, he came to SmartBiz Loans not once but twice. Here's how he is expanding with the help of two SBA loans facilitated by SmartBiz Loans®.
***
Strictly for Kids experienced a boom in 2012 when the U.S. Consumer Product Safety Commission passed tough new standards for all cribs in childcare and other public places.
Fusch saw an opportunity to sell compliant cribs. Using guerilla-marketing techniques, he launched an aggressive telemarketing program promoting Strictly for Kids cribs. The company increased sales by 580%.
"We came in on slim margins and high volume," Fusch says. "Most cribs were in the $300 – $400 range and we were in the $109 – $120 range. We were selling 500 – 750 cribs per day during the peak."
The success wasn't just because of the price point. "We're obsessed with quality," he says. "It's what sets us apart."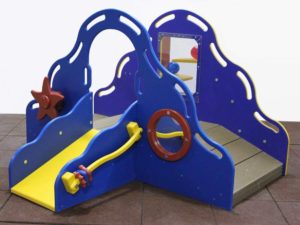 Fusch's obsession with quality shows in every product they create. In addition to selling cribs, the company handcrafts indoor and outdoor play equipment for classrooms, playgrounds, afterschool programs and child care centers. Strictly for Kids is known for beauty, elegance and safety with a "children first" focus.
"Since our phenomenal break out year in 2012, we've evolved tremendously," Fusch reports. "We've added 25,000 products in the 4 years since then."
After that profitable year, he put the money back into staffing and hired two full time employees. He also launched marketing initiatives using Google AdWords, Bing and Facebook to introduce his business to new audiences.
Why has his business been successful? "We're much better than bigger companies that do what we do. We're more quality focused and stay away from things designed to fail."
Fusch started looking for funding to keep up with demand. "I did an awful lot of research and note taking a few years ago because the banks weren't lending. I kept looking at all the loan sites – peer-to-peer and cash flow loans, no credit check required loans, daily payment loans. I called and asked lots of questions and looked for certain criteria. SmartBiz® kept coming up," he says. "I thought 'Why not start at the top and go with a really good lender with good rates?''
One of the elements of working with SmartBiz that he appreciated was during the preapproval process. "I love the fact that there wasn't a hard pull of credit."* Fusch's credit score easily met the criteria for an SBA loan** and he works hard to keep his numbers high. "I don't buy it if I can't pay for it. I've never run up debt. I have a lot of available credit and pay it off on time or early."
The company's excellent bookkeeping helped move the streamlined application along swiftly. He was so happy with the process and product that he returned to SmartBiz in 2017.
"After the 1st loan, I had the number of a local banker. I thought about it but I didn't have as much faith in bankers as I did in SmartBiz. SmartBiz has an easy-to-navigate website and I got the information I needed."
Although Strictly for Kids has a robust nationwide business, Fusch wants to expand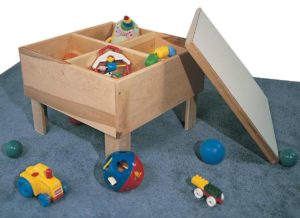 locally. "I didn't end up marketing like I expected to with the first SBA loan. I spent so much time hiring, training and working on the website and suppliers. I didn't focus on sales for about two and a half years and sales dropped back," he says. His business is currently 97% out of state. He wants ½ of his business to be generated in Washington.
"We're the only place in Washington where customers can fill up a truck and set up their classrooms. There's never been anybody like us and no major companies have moved here." One issue that might work against Fusch is the industrial area location of Strictly for Kids. "People see the beat up parking lot but once they walk in the door they love it."
Fusch is going to start heavy in-state mailings and he expects to grow considerably. "We've been building shelving up the walls 14 feet high to display our backlog. With cash flow from the two SBA loans we've brought in a tremendous amount of inventory – a lot of furniture along with trikes, cots, tables and chairs, sand and water tables."
Fusch will soon be launching a direct mailing campaign. "We have a mailing list of 11,000 and we're going to launch direct mail every three weeks."
To learn more about Strictly for Kids, visit their website and watch a video. You'll hear the passion in Fusch's voice as he discusses his business. Best of luck to Strictly for Kids!
* When your loan application proceeds to funding, SmartBiz Loans and its bank partners request a hard pull on your credit, which appears as an inquiry on your credit report. This only happens after your application is in the funding process and matched with a lender who is highly likely to fund your loan.
**Business owners must have personal credit scores above 650 to qualify for an SBA loan through SmartBiz bank partners