Business Story: Enyermy Hair Solution, LLC
Consumers are becoming increasingly focused on "self-care" to boost their health, look good, and feel better. As a result, the world-wide beauty industry is booming, with new products and treatments being introduced at a rapid pace.
SmartBiz worked with Enyermy Dominguez, a successful beauty entrepreneur, who recently launched an upscale line of hair care solutions. Her products quickly became popular, and she needed additional capital to keep up with demand. Here's how Dominguez is expanding her business with proceeds from a term loan funded by a bank in the SmartBiz network.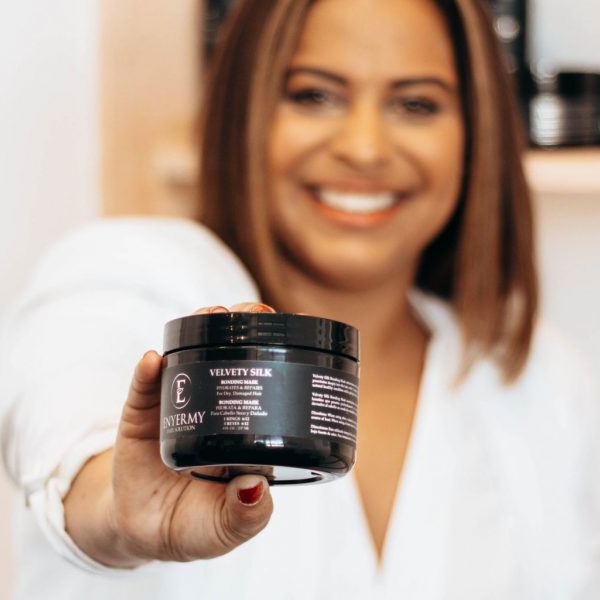 Dominguez has over 20 years of cosmetology experience and operates a successful salon in Orlando, Florida. She's passionate about hair health saying, "Taking care of your hair can be an investment in your overall confidence and happiness. I focus on my client's needs to help their hair look and feel its best."
Before developing the Enyermy Hair Solution® line, her hair salon took off. She says, "We used Groupon® and Facebook® advertising, but the studio grew too fast and I had to stop marketing efforts. We have a great location, but I think my success is because I treat my clients like family. I'm approachable and I like to have real conversations."
Over the years, Dominguez realized that the products she used in her salon were not giving her clients the best results. "I noticed that most products don't have long-lasting results and fade in three to four months. This causes build up on the hair and may result in an overall frizzy look." She started exploring solutions she could create herself. "Instead of researching existing products, I created my own unique brand based on clients' needs and hair structure. I collaborated with professionals in phytology, which is the study of plants."
Dominguez worked with specialists in Los Angeles and Brazil, ultimately creating a vegan, chemical-free formula that addressed hydration and hair restoration. She started with nine products and now has 14, including shampoo, conditioner, hair masks, hair growth systems, and more. There's even a hair quiz on her site to help customers determine the targeted products they need.
As Dominguez worked to get her product to market and explored manufacturing details, she realized she needed funding. She found it difficult to get approved for a loan and ended up taking out a business credit card. "This industry is very competitive, and most hair brands have multimillionaire owners," she reports. "I had to learn everything about this business to make it happen. I encourage anyone starting a business to avoid getting discouraged just because people don't believe in your project."
Dominguez is fortunate to have family support, "My husband, and my 20-year -old,daughter and 18-year-old son work with me on the Enyermy product line. We're always looking for new hair solutions and helping to spread the word about how our products can help those struggling with hair health."
In the beginning, Dominguez planned to only sell at the salon. However, the first batch sold out in a week, and they had to double the production volume. Her products are now sold across America, in the Dominican Republic, and throughout Canada. You can now find Enyermy Hair Solution products on their dedicated website, through distributors, and in beauty salons.
As her line grew, Dominguez knew she needed more than just a business credit card. She came to SmartBiz and worked closely with Manish, a loan operations specialist, to secure a $60,000 term loan from a bank in the SmartBiz network.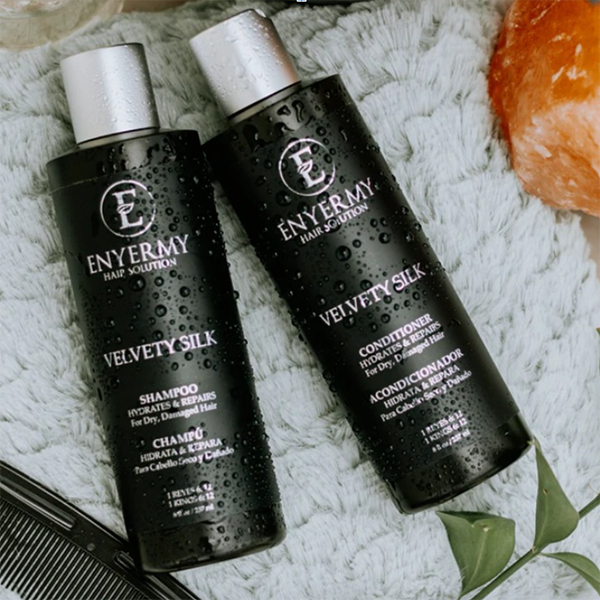 Manish says, "I had the pleasure of working with Luisa to find the perfect financing solution for her business. She thoroughly answered cash flow questions while explaining her need for funding. We were able to work with a lender that ultimately got her funded within a week. I'm very excited to see how this loan will help the business grow while allowing Luisa to continue to provide excellent service to her clients."
Dominguez detailed her positive experience on Trustpilot.
"Best experience ever with a business loan. The process was fast and easy. It took only a week to get the approval. I would recommend SmartBiz 100%. Definitely they will be always my first option to keep growing my business."
Dominguez has no plans to slow down and now has several new projects in the works. She is interested in creating professional hair products to be used by salon professionals. Although she has experienced great success, she's not ready to slow down. She says, "It's too early to be proud. We have a long way to go and I'm happy with where I am now."