Bodyworks DW: How an SBA Loan Grew a Medical Massage Therapy Business
Bodyworks DW Inc. isn't a spa offering luxury massages. David Weintraub has established a studio in New York offering medically therapeutic massage therapy with a clinical approach for pain management.
David and his highly trained staff offer treatments to help clients feel better in a lasting way.
When David determined that additional low-cost funding could help spark savings and growth, he came to SmartBiz Loans®. Here's the story of how this creative entrepreneur went from playing guitar and writing math books to running a successful business.

SmartBiz Loans: How did you become a small business owner?
David Weintraub: I have a varied background. I started in New York as guitar player playing in rock bands with the goal of becoming a rock star. I realized it was a harder life than I actually wanted to live with touring, hotels, and bad food. To make ends meet, I was writing math and science books but was getting bored, so I started looking for the next thing.

SB: Why massage therapy?
DW: I knew I wanted to work for myself, do something rewarding and make a decent hourly wage. With a life coach, I explored my interest in massage therapy and completed an intensive 6 month, 55 hour a week program. I came to New York, got my license, and started out working in a destination spa.

SB: How did you move into the massage you practice now?
DW: The owner of the spa let me explore therapeutic medical massage. I was very lucky to have that support. Slowly I built my clientele and in 3 years I was able to go out on my own.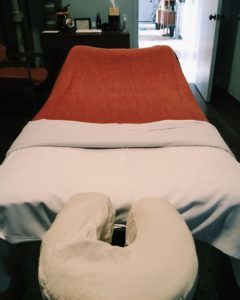 SB: What exactly is therapeutic massage?
DW: Therapeutic massage is based on solving client problems and helping them feeling better. We focus on long-term results, as we're more medical in mindset. Luxury massage doesn't have the real scientific medical background to improve knee issues, rotator cuff injuries and other common problems in this day and age.

SB: How did you attract clients once you were out on your own?
DW: When I started private practice, it was 100% word of mouth. I had a website that no one visited. I didn't know about SEO or other online strategies. In addition to client-to-client word of mouth, I networked with others that complimented my practice like orthopedists, physical therapists and pilates instructors.

SB: Did you use outside funding to get started?
DW: I used credit cards early on with a very step-by-step-by- step approach. I started by renting out a space one day a week. My clientele started filling up, so I added a 2nd day and later a 3rd day. I was at that precipice – do I go private now? And I did. Each stage didn't require a huge investment but there were some lean years in there for sure. I made spending cuts, lived at home for four months and couch surfed until I got on my feet.

SB: How has your business grown?
DW: Four years ago, I decided it was time to get my own space and establish a studio – not a spa. I needed to put up a little money and dug into credit cards. We're now open 7 days a week from 9 am – 9:30 pm. We currently have 4 treatment rooms, one being used by a chiropractor, and 13 therapists on staff, including me. We've successfully doubled our booking and revenue in the last year and a half.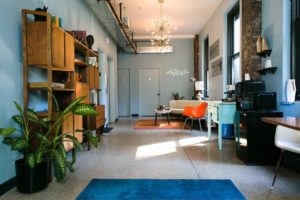 SB: What made you decide to look into a small business loan?
DW: A few years ago, we got funding from our bank. Those funds helped us secure a 10-year lease for our studio, but it was a lower amount than I needed.
About 3 months ago I decided we needed support staff to help with marketing and that sort of thing. It's a big added expense without being a revenue generator. I was looking at bills coming in and money going out and I needed some breathing room. I only had about $5,000 worth of cushion. With payroll running $15,000 a month, an AmEx bill of $10 – $12,000 a month, I was biting my fingernails. I knew this was not a sustainable stress level. I wanted to package my existing debt and get real working capital for the coming months.

SB: Why an SBA loan?
DW: I figured an SBA loan was for us for a few reasons. My bank had a strict loan amount limits. Those loans were helpful to get things done but not to help me breathe easier and they weren't willing to offer more. Other avenues I explored had 3 – 5 year terms. I needed funds that would lighten our load and short terms weren't going to cut it. I went on the SBA website. I knew that their mission is small business support and that they have loans. Through my research I was sent to the SmartBiz Loans website.

SB: How was working with the SmartBiz Loans Team?
DW: I utilized customer support help pretty quickly. I needed to upload a profit and loss statement and balance sheet. They don't teach you about that in music or massage school!
When I started uploading documents, James (a SmartBiz Loans Relationship Manager) looked everything over and wanted to present my business in the best light. He was very hands on in helping me move the application forward. I always felt that he was being truthful and honest – not selling me anything.
I was expecting the process to be a 5 – 7-day thing. But because of outside parties, it took several weeks. James was able to help with that and my frustration. My inner voices might have had me stop the process, but James encouraged me along. James and SmartBiz really made this process happen – if I had to go through all of it on my own, I probably would have given up.

SB: How has the loan helped your business?
DW: Our main thing was to fill out the support staff and have enough working capital to explore marketing opportunities. It's so much easier now to make decisions about advertising on LinkedIn, using Google AdWords, launching email advertising and more.
Also, my monthly loan payments went down by a third once we paid off all of the high interest debt. I realized I don't have to stress right now and found myself thinking, "Ahhhh…this is lovely".
I'll be able to give myself a raise in 2018 and can start funding a 401k and an IRA. We put those in place but realized there was never enough money to put into them.

SB: Do you have advice for other small business owners?
DW: Be authentic. Really offer something that is special and unique – don't try to equivocate or appeal to everybody. Do what you really love, and you'll attract a fan base. That's all you need.

SB: Where do you see yourself in 5 to 10 years?
DW: My goal in two to three years is to have a 2nd location in mid-town Manhattan and potentially a Brooklyn location as well. I've designed my business to be a graduate school for massage therapists. Our industry doesn't have a cohesive place to grow beyond school. I'd like to be able to teach continuing education in New York as a mentor. If I can help students grow into a reliable, fun and results based professional, everybody wins. Clients are happy, the vibe is fun, and everyone makes a good living.
I recently had the most amazing experience. I was in the elevator with one of my therapists and support staff. They talked about how my studio is the best place to work and that I'm the best boss. That means a lot to me. I want to keep growing and evolving in that direction.
***
Could a low-cost SBA loan help your business grow and save? Not sure if you qualify for an SBA loan? Try the new SmartBiz Advisor™, an online educational tool to help you learn about how you can get your business SBA or bank loan ready – no cost involved. You can assess key criteria banks consider and where your business stands on each. Learn more about SmartBiz Advisor here.