AmsedBK Designs Business Story
The SmartBiz Loans team is hard at work helping small business owners across America get the funding they need.
One business helped, AmsedBK Designs®, owned by Desma-Ann Bidjou-Kerekes, is bringing color, creativity, and happiness back to the carnival scene.
Desma left this 5-star review on the SmartBiz Loans TrustPilot page:
Wonderful experience!
As a sole proprietor going through this process for the first time I was nervous about being able to get funding and also had a million questions regarding my application throughout the process. My concerns were addressed by very knowledgeable and responsive application processor Nick H. Nick's support made my 1st draw process seamless and I have now applied for my 2nd draw with confidence through SmartBiz and have referred my contacts who are also interested in applying to do the same!
Here's the story of Desma's unique business and her plans for rebuilding with funds from a PPP loan.
Desma is a true entrepreneur with three established business ventures under her belt. Her first business was started in partnership with a childhood friend. "We have a makeup line that we sell seasonally at street festivals. However, we never had any true accounting. We were incorporated but didn't take it quite as seriously as we should have. When the pandemic struck, we couldn't do anything."
Desma had a full time job as a Human Resources specialist in the non-profit industry. Last April she was laid off so decided to establish a second business offering HR support. "My two college aged children are involved helping to provide solutions for small business. We assist with legal compliance requirements, appropriate minimum wage posters, and employee insurance. Ultimately, we hope this turns into a full time gig."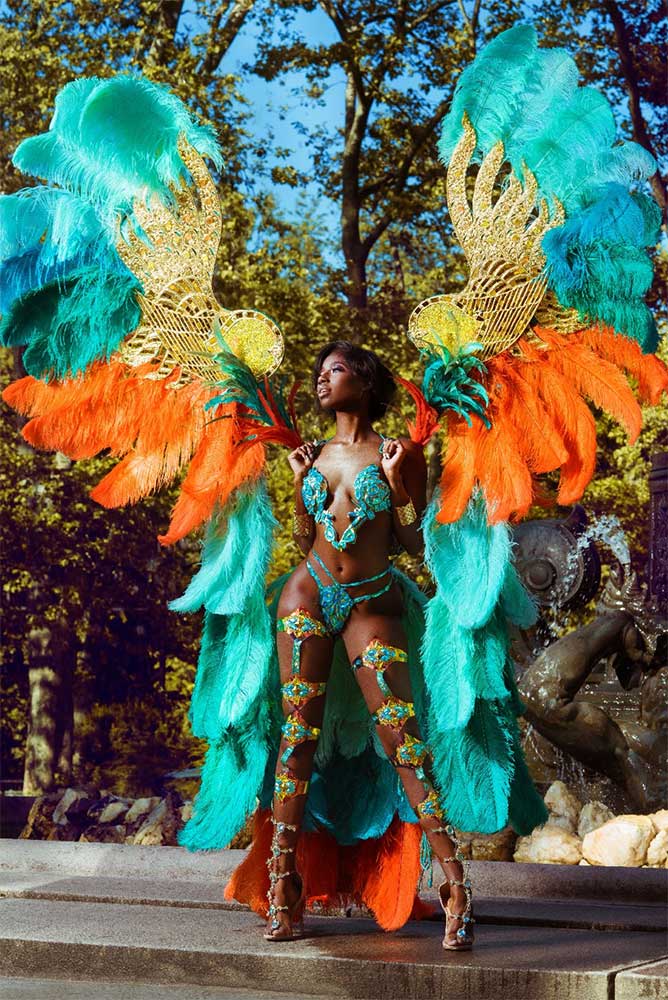 For now, she's focused on rebuilding AmsedBK Designs. The creative business owner hand-makes custom design services for Carnival celebrations and private events.
"I'm a 2nd generation costume designer, originally from Trinidad, known for the Trinidad and Tobago Carnival."
The annual event held on the Monday and Tuesday before Ash Wednesday, is well known for participants' colorful costumes and exuberant celebrations.
"My mom would design costumes for Labor Day parades here and I became involved as a kid. I started taking it seriously while working a full time job in the past two to three years. I became an Independent Contractor and embraced the business process – saving receipts, invoices, ad agency expenses and more."
In 2019, she was contracted by a leading ad agency to create a large headpiece for a show.
"It was 8x12, the biggest I'd ever done, and the client asked to display it at the Essence Magazine beauty carnival. It was installed for photo opportunities. This costume design journey has exposed me to a lot. "It's been very busy but I'm learning to make it work despite the chaos."
She has advice for other hard-working business owners.
"Quit glamourizing being overworked as a woman and embrace self-care. Take a bath, go for a walk, or get your hair done. My hours are not standard – I'll go to bed at 3 am and get up at 7:30 am. But I take one day to do absolutely nothing. So much inspiration has come from the opportunity of stillness during this pandemic."
Her business has been built successfully by positive word-of-mouth. She also has a large social media presence which was boosted by the attention of Love and Hip Hop star and Instagram influencer Alexis Skyy.
Desma has a small home-based work space but is making the most of it. "I have a space to work in with bins upon bins in a full storage unit. Between home and storage it gets a little hectic. But my family pitches in to help with costumes."
Like thousands and thousands of others, her business came to a screeching halt last years. "Unfortunately, contracts and projects I had lined up for 2020 disappeared. These included special events like sweet 16 birthday parties and weddings. My son is a stilt walker and he was suddenly unemployed as well."
Her venture was mainly funded from her full time job income and personal savings. However, when her costume business shut down after a large February 2020 festival, she began looking for solutions to stay above water.
"I have 13 friends having shaky experiences with loans pending through other lenders. I found SmartBiz Loans on Facebook and am very impressed with lending support throughout process from Nick with SmartBiz. His responsiveness truly meant a lot . He was sure to address my questions quickly via email. It speaks volumes about SmartBiz. I can't stop singing the praises of Nick. I'm really thankful for the PPP opportunity."
Her advice for other struggling business owners?
"I was intimidated by the PPP process. But go for it. This program can benefit you in the long run. I'm now looking forward to more events and increasing our HR services support."